N & J's on the way
"A Valuable Community Service You'll Appreciate!"
*Update: a HUGE Thank-You to the Tripod Technical Team for fixing our website! It looks GREAT once again w/it's original background color (Deep Blue Print); again, THANK-YOU Tripod Technical Team Members!
N & J Odd Jobs.
► A Unique Company Concept in Southern, NH. ◄
10 Years in Business!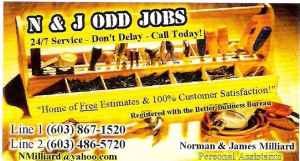 *Open: Daily, by Appt. starting @ 10am. until 12Midnight.

✔ ►► Tel. (603) 867-1520

Specializing in "Odd Job Commodities" such as:

* ★ Junk, Debris, Brush & Clutter Removal / Foreclosure & Estate Clean-outs / Storage Units & Lockers Emptied ★

* A+ Professional Moving Assistance: ( I Help You Move :-) flat-rate pricing or by an hourly-rate starting @ $29. per hr. depending upon the size of your move + a low $25. travel fee (outside of Manchester, NH.) I HELP you load & unload your moving truck w/you. ► Offering "Same Day &/or Night + Next Day Moves." Have me help move you today; *Norman of N & J.

* Bldg. Maintenance: basic knowledge in construction, carpentry, minor electrical, minor plumbing, & maintaining property grounds; Mechanically inclined w/strategic thinking in trouble shooting & solving problems once & for all.

* High Pressure Washing / Apt. / House Eviction Trash-outs / Remodels / (Seasonal) Opening / Closing up of small cottages / camps.





* Furniture / Appliance Pick-up & Delivery.





* Year-round Articulate Landscaping (We Lawn Mow, Leaf Blow & Rake to Bag Leaves, Trim back Hedges, Weed Whack, Plant Gardens or even ❀ (Flowers) for you, Bark Mulch (Organic or Stone), Stack Cord Wood, Shovel ❄Snow☃, Salt + Sand Walkways & Driveways). Don't want to clean ❄snow☃ &/or ice off your car & roof? You don't have to; We'll do it for you - just $12. per auto & when we're done, your ride will look like it didn't snow @ all - Imagine that! (Manchester, NH. only.)

* ✔ Coming Soon! {Evenings} ✳N & J's P.D.S. [Public Driver Service] *Cheaper than public taxi rates! Don't want to or can't drive? Forget calling a cab; We'll drive you, just call & schedule. *Flat rated @ just $10. = 1 pick-up & drop-off ANYWHERE in Manchester, NH.

* A.C. Units Installed & Removed / Installing or Replacing Storm Doors / Storm Door Restorations (a procedure that can actually be done to make an old storm door last as if it was new again.) / Caulking Windows, Doors, Bathroom Tiles, Around your tub, Etc. / Window Measuring & Blind Installations / Installing or Replacing Light Fixtures incl. Ceiling Fans / Minor, Inside & Outside Quick Fixer-Uppers / Repairs - don't buy new; call us, we'll odd job the old [fixing it] making it last & work again as if it was new (we're like McGyver when it comes to tooln' things).



* R.T.A. Furniture to include: Interior Furniture, Backyard Patio Furniture, Fitness Equipment & Baby items such as Cribs, Swings, Rockers, Strollers, Etc. assembled.

* Auto Jump Starts

* General Courier Service / Errands: even if your in another state & need our "1 of a kind" general courier service or your errands ran while away (e.g. pay an overdue bill; documents needing to be picked up & delivered to meet a deadline or for that matter, immediately faxed to you; hand delivery of $$$ to somebody on your behalf; etc.) simply wire us the $$$ + our fee through Western Union via their website & consider your run - DONE!

* Restaurant Take-out Deliveries (Manchester, NH. only) take-out from restaurants such as: The Puritan Backroom, Aloha, The Yard, Longhorn Steakhouse, TGI Friday's, Goldenrod, Pappy's Pizza, etc. (hint: the food @ these places is excellent & they don't deliver but we do!) Delivery Charge = $12.


* General In-House Cleaning / Office &/or Residential Organizing / Interior Design.

* Private In-Home PC Instruction for Beginners / Computer Installations / Cable T.V. Extensions.

* Grocery Runs / Christmas Shopping / Exterior Halloween & Christmas Lighting

* ☑ N & J's Company Companionship: Lonely? Need some company? Call us! You can have us come over & watch movies, sports or even reality t.v., take us to a Club/ Broadway Show, book us for a Dinner/Wedding Date, Ball/Hockey Game, Concert, to brighten up a Holiday, Birthday or just a Special Day you wish to celebrate; etc. ✳Our comical personality combination consisting of: Jim Belushi, Jim Carrey & Adam Sandler will be sure to Razzle, Dazzle you! Whenever you need an x-tra person, partner or even a date, we'll be more than happy to accommodate you on that special occasion/exciting venture you've been meaning to share it with. ;-) (*Since our time is valuable due to running this business, a reasonable hrly. rate applies). *Now offering a discounted rate. The discounted rate will always apply to regular clients using this service. "You're not alone out there, we're here for you as a Company Companion you'll feel like you've known a lifetime; Count on us!" *Your Host: Mr. Norman M. Milliard Jr.


* ☂ (rain) or ☀ (shine): Whatever your "odd jobs" are we'll do, even if it's just needing an extra set of hands to finish up a project you might be working on, Concierge Services, Etc; Call N & J ODD JOBS ~ from our ❤, we take pride in "helping you" anyway we can at anytime for anything ~ Instant Manpower @ your request.

☛

Need Help, but low on $$$? NO Problem!


* ☑ Check-this-out! We also deal in "Bartering." We're willing to trade/perform any of our odd job services in exchange for items such as: Cars, Limos, Trucks, Motorcycles, Mopeds, Dirt bikes, ATV's, Go-Carts, Skidoo's, Jetski's, Boats, RV's, Trailers of all sorts or whatever items of value you might have to include vacations (resort time sharing); we're open to any & all bartering negotiations.

[** SPECIALS **]


(1) Save $2.00 per hour on odd job: "Year-round Articulate Landscaping."

(2) Save $10.00 on odd jobs: Junk, Debris, Brush & Clutter Removal or Apartment/House Trash-outs.

(3) Save $10.00 on odd job: Window Measuring & Blind Installations.

(4) Spend @ least $175.00 on any odd job(s) listed above & we'll send you a rebate check in the amount of $10.00 to use towards whatever you may need during these tough economic times.

(5) Senior Citizen Discounts provided.

* Special #'s 1 - 3 good towards your 1st. odd job. Special # 4, a rebate check equaling $10.00 will be mailed (U.S. Mail) with invoice following the completion of your odd job(s). 1 special per service call. Specials cannot be combined with any other offers. Offer specials never expire. *Must mention that you saw "N & J ODD JOBS" advertised online.


*Reasonable Rates, Most Jobs Flat-Rated, Open: Daily, by Appt. starting @ 10am. until 12Midnight; Closed Holidays.


Tel. (603) 867-1520


Fax (603) 935-9867


Companies looking to contract job assignments with us, please call 1st. before faxing your work orders.

* Call, Fax or E-mail today; we're ready & waiting to serve you!




* 29 years experience "Helping People" with their everyday odd jobs; we've been doing this on & off since we were 18 & decided to make it our 1st. business.

* Established: 3/17/2005 / Registered w/the State of NH. (Business ID# 772636) & the B.B.B. of NH. / *Working on obtaining General Liability Comprehensive Insurance...


* Based in Manchester, NH. & Serving NH. from Laconia, down to Boston, Ma.



★ V.I.P. Dependable, Reliable, Friendly, Courteous & Honest Trustworthy Business dedicated to meeting your simplest needs. Last minute situation? Call Us! If we say we do it (in accordance to this advertisement); Simply stated: "Consider-it-Done!" *All ☎ calls, text messages & emails returned via N & J's quick answer response system with-in 48 hrs. Residential & Business Accounts Welcomed. ✳N & J's Company Policy: Any odd job services totaling $300. or more will require a 50% down payment before work is begun. / **Accepted forms of payment = Cash, Personal/Business Checks, A.T.M. Debit Cards ($$$ withdrawn 1st.), Money Grams, Western Union $$$ Orders, Bank Transfers & Bartering Items (listed above). *Commodities/Info. listed in White = Our Specialty Services.


Note: Save this site now to the "Favorites" folder on your computer; Why? "At any point & time somebody will need Valuable Help in some form or another - the reason & sole purpose N & J ODD JOBS was designed."


Why odd job commodities you ask? "When you know your good @ something you stick with it. We also enjoy helping people by way of offering our odd jobs we do, to you." ✳Rated # ❶ - The ♛ (King) for odd jobs! ☚